Fitzroy Falls Cluster
---
Burrawang General Store & Café
Step into another time and place as you cross the threshold of Burrawang General Store – a gathering place for locals for more than 140 years, that has continually stepped-up its menus without compromising on character. Indulge in the all-day Sunday breakfast of house-made granola with honeycomb yoghurt or golden waffles with caramel, banana and walnut.  Relax out on the old verandah or soak up the sun in the gardens then warm by the wood-fire.  Open Sun-Thursday 8am-5pm and now for dinner Friday and Saturday nights 8am-9pm and fully licensed.
Hours: Sun-Thur 8am – 4pm, Fri & Sat 8am – 9pm
Address: 11 Hoddle Street, Burrawang
Contact: (02) 4886 4496
Email:  info@bgsc.com.au
Website: www.bgsc.com.au
---
Burrawang Village Hotel
The heart and soul of Burrawang Village is this charming, family-run old country pub is set in beautiful flower-filled gardens, overlooking the rolling hills of the Highlands.  Warm by the crackling fire at night and devour one of the renowned Burrawang burgers, a slow braised lamb shoulder or rib eye on the bone with local craft beer or something from the extensive wine list. Open every day for lunch and for dinner on Friday and Saturday nights, with a welcoming family vibe.
Hours: 11am – 12am
Address: 14-16 Hoddle St Burrawang
Contact: (02) 4886 4206
Email: info@burrawangvillagehotel.com.au
Website: www.burrawangvillagehotel.com.au
---
Coburns Distillery – love in a glass!
A dream realised for Mark Coburn who equates cooking for someone with 'putting love on the plate', you'll experience 'love in a glass' at Coburns distillery. Three acres of the 15acre distillery site is peat bog – making this the only Australian distillery with its own onsite peat for smoking the barley.  Add to that peat filtered lake water and four pure water springs on the property and you have a winning formula for wonderfully smooth, single malt whiskey!
Contact: 0405 243 547
Email: info@coburnsdistillery.com.au
Website: coburnsdistillery.com.au
---
Fitzroy Falls General Store
A friendly little road stop for fresh local produce and a pot of tea with a freshly based pastry or hand-made chunky meat, sweet and savory pies – like the award winning medley of mushroom!

Address: 1315 Nowra Rd, Fitzroy Falls
Contact: (02) 4887 7922
Social: @fitzroyfallsgeneralstore

---
Fitzroy Lake Wines
A small, family run estate producing some lively local wines like the Fitzroy Lake Chambourcin.
Contact:0428 482 575

---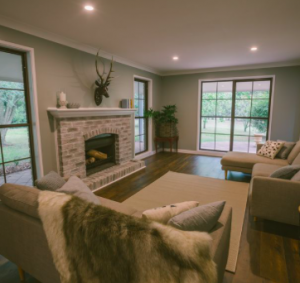 Foxgrove
An authentic taste of Highland country living, staying in an exquisitely renovated guest house nestled in beautiful gardens and pastoral surrounds.  Cook-up some of the local produce in the large, renovated kitchen and wind down in the grounds and gardens.
Contact: 0466 307 741
Email: violetsandvinegar@hotmail.com
Website: Foxgrove@stayz.com
---
Heart Springs Water – mountain-fresh
Heart Spring, pure organic spring water has a fresh, lively character – bottled from a source deep within the heart of the NSW Southern Highlands.   Guarded by giant rainforest and trees and protected from modern era  pollutants, this is as fresh as it gets!  The taste is lighter and sweeter than bore drawn waters and the water is energized by Grader Technology that spins the water in a vortex.
Contact: 0428 768 659
Email: info@heartspring.com.au
Website: springplus.com.au
---
Maugers Meats – local farming royalty!
The Maugers family name is synonymous with the very finest meat the Highlands has to offer. Applying meticulous farming methods to produce generous cuts of pasture-raised beef and lamb for their popular shopfront, generations of the Mauger family have farmed the grassy Highlands hillsides.  Their wonderfully succulent hormone-free and antibiotic-free meats feature on menus all around town. You won't find anything like it anywhere else and you will want to take some back home!
Contact: 02 4886 4327
Email: info@maugers.com.au
Website: maugers.com.au
---
Moonacres Farm – all about the freshness!
Hand-tilled raw earth, compost, crisp mornings and fresh fruit and vegetables that melt in your mouth are the hallmarks of Moonacres Farm – sought after among the Sydney restaurant scene for its exceptional organic harvest.  Passionate advocates of all things natural, the farmers let the land and the weather work their magic to produce authentic, nutrient-rich results, with as little intervention as possible. The results are unbelievably delicious!
Contact: @moonacresfarm
---
Redleaf Farm
Free range Heritage breed Wessex Saddleback sows, Black Angus beef, Border Leicester X Merino cross ewes and pastured hens are all raised at picturesque Redleaf Farm. Suckling pigs are wait-listed by some of Australia's leading chefs, and Redleaf Lamb was awarded 2017 delicious NSW Produce of the Year.  You'll also be greeted by a menagerie of fowl including geese, chooks, ducks and peacocks when you visit. Healthy and sustainable living is the focus at Redleaf and they supply only the finest quality free-range produce.
Unique accommodation is also on offer by way of two converted railway Carriages. Carriage 1238 is a1920's passenger car that includes a king size bed and chandelier amongst other luxurious touches. A deck overlooks the paddocks, the perfect place for an afternoon glass of wine. You will be woken by the sound of roosters! A true farm experience. Carriage 343 is off-grid solar powered 1890's guards carriage, still on wheels, positioned with privacy and views of the farm.
Address: Redhills Road, Fitzroy Falls
Contact: 0411 763 373
Email: katrina@designsparke.com
Website: redleaf-farm.com
---
Twin Oaks Cottage
The original, early 1900'2 cottage on picturesque Twin Oaks Farm features a balcony over the estate paddocks, perfect for taking in an early sunrise or enjoying a late-afternoon glass of local wine!  A secluded, rural setting ideally suited to families and lovers of nature with walks out to the falls, grottos and Maryla State Forest.
Address:161 Redhills Road, Fitzroy Falls
Contact: 02 4887 7245, 0414 482 345
Email: info@twinoakscottage.com.au
Website:twinoakscottage.com.au
---
WILDfest Southern Highlands
An exciting new wilderness experience brand that opens the great Australian wild to the world as never before. Canoes Champagne & Canapes is a signature experience, starting at Beehive Point and gliding through the misty waters of a local, sunken forest in custom built double-canoe rigs with built in tabletop and ice bucket for the enjoyment of decadent forest canapés and cool climate Highlands wines.
Website: wildfest.com.au
---